Budapest is one of the most beautiful European capitals. It combines beautiful architecture with a unique nightlife. Although most tourists come here for just a few days, it is not enough to learn everything about this city and devote yourself to all the entertainment available. We present you the biggest sights of Budapest.
1. Fisherman's Bastion
The Fisherman's Bastion is the symbol of the city. Built at the turn of the 19th and 20th centuries, this is one of the finest buildings in Budapest. From October 15 to March 15, the entire building is open to the public free of charge. In addition, the lower part of the tower can be visited free of charge throughout the year.
2. Royal Castle
The Royal Castle is a complex of buildings located on the Castle Hill. Its origin dates back to the fourteenth century. Inside the buildings you will find sights such as the Budapest History Museum, the National Gallery and the National Library, all of which have an entrance fee. Open terraces full of monumental monuments and magnificent fountains can be visited completely free of charge.
3. Szechenyi Furdo
Szechenyi Furdo is the largest thermal pool complex in Europe, which was built in 1881. There is a huge outdoor pool where you can enjoy your vacation and spend an interesting evening. There is also a spa area on site.
4. Parliament
The Parliament building is one of the symbols of the city. Maintained in neo-gothic style, it attracts tourists from all over the world. The main monumental dome reaches up to 96 meters. However, inside the parliament building is also impressive. There are over 680 rooms and all of them are full of splendor. The Parliament is open to visitors from 8:00 to 18:00 (April to October) and from 8:00 to 16:00 (November to March). It is worth booking your appointment online in advance. It is also worth seeing the parliament building at night – beautifully lit, it makes a huge impression.
5. Chain Bridge and Danube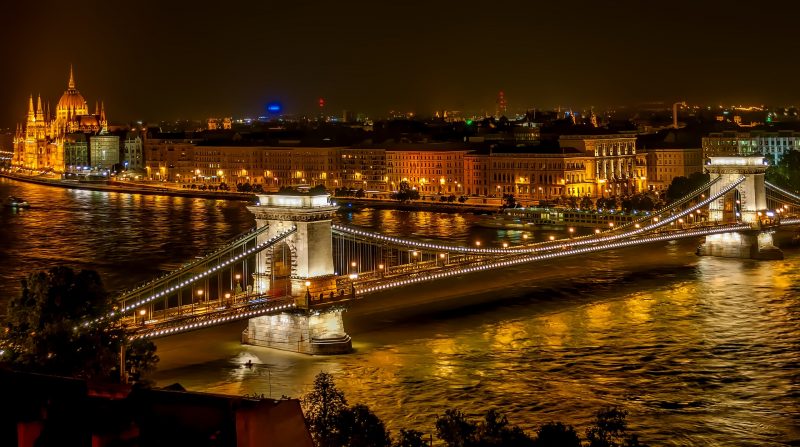 Very good place as a viewpoint. In the evening, the fantastic lighting makes a great impression. The bridge can be reached on foot. This bridge is truly unique. And photographing it at night, especially right after rain, is a great photographic moment. There is a lot of poetry and paintings on the Danube – it is not surprising that this is one of the most beautiful and largest rivers in Europe. Definitely walking along the boulevards along it is one of the biggest attractions in Budapest. Nearby you will find restaurants, pubs and bars.
6. Heroes Square
Heroes' Square is the largest and most magnificent square in Budapest. It has characteristic colonnades and the Millennium Monument, one of the most recognizable monuments in Europe. Entrance to the square is free and possible around the clock.
7. Simpla Kert
Szimpla Kert – romkocsma which means pub ruins in Hungarian. A strange place worth seeing. It's full of weird and wonderful stuff, but also a great vibe. Age doesn't matter – young or old, you will appreciate this place. Super cool drinks and the atmosphere is amazing. All kinds of music and people.
8. St. Stephen's Basilica
An impressive basilica that can accommodate about 8,000 worshipers. It is rich in marble, mosaics and valuable works of art by leading Hungarian artists. Beautiful arches, beautiful frescoes and paintings. Architecturally, it is magnificent and huge.
9. Central Market
Great place for hiking and viewing. We ate soups and cabbage rolls – real Hungarian cuisine. On the ground floor there are sellers of fruits and vegetables, meat, bakeries and spices. At the top there were various collections, souvenirs and food vendors. The food stands were quite crowded but the prices were great and the offer was very good.
10. Gellert Bani
Gellert BathsAnother water complex worth visiting while in Budapest. Impressive baths are reminiscent of Art Nouveau. In beautiful interiors you will find 18 swimming pools and 10 saunas. Gellert Baths also offers a special SPA offer. The complex is open from 6:00 to 20:00 throughout the year.
11. Great Synagogue
The Great Synagogue is the largest temple of its type in Europe and one of the largest in the world. It's not only impressive from the outside – you'll find wonderful decorations and unique decorations inside.
12. Vajdahunyad Castle
This castle is located in "Varosliget" which is a large park. The Hunyadi family once owned the castle. Now it is a Hungarian agricultural museum with a large number of exhibitions. A truly remarkable medieval building with lots of character and great shooting opportunities. Located in a park with lots of greenery. It seems to be out of place compared to other places in Budapest. Nice walking areas. A pleasant surprise.
13. City Park
The central city park occupies more than 80 hectares of greenery. We find here an artificial lake, ponds and ponds, as well as beautiful avenues full of decorated benches. The attraction of this place is also Vajdahunyad Castle, which makes a great impression. This is definitely a place worth visiting to stop the hustle and bustle of the city for a moment.
14. Shoes on the banks of the Danube
A sad and thought-provoking place worth a visit. The monument itself is rather depressing. It's a nice place, but probably not everyone knows what Holocaust remembrance is about. The Germans fired at people who flew straight into the river.
15. Haza Terror
We can recommend this museum to anyone who is interested in Hungarian history. There are inscriptions in English that explain a lot, and the furnishings of the rooms are very delicate. The museum is well organized. You can rent an audio guide. It presents a grim message about the use of terror to support totalitarian regimes. Exhibitions in cells and interrogation rooms show the methods used by fascist and communist regimes in the 20th century to control citizens and suppress opposition.
16. Citadel
It's not an easy walk to the top but the view is totally worth it. There are many places where you can take great photos of Budapest, the Danube and picturesque bridges from different angles. There are several places where you can get food and drinks, as well as a few souvenir stalls on the way up. The monument signifies liberation after World War II. The citadel was built in 1851 by Julius Jakoub von Hainau, commander of the Austrian Empire, and was designed by Emmanuel Zitta and Ferenc Kasselik after the Hungarian Revolution of 1848.
17. Zoological Garden
The Budapest Zoological Garden is a unique place for a family afternoon. The complex includes both native species and exotic animals. The zoo has many themed pavilions that please not only with the variety of animal species that live in them, but also with their style and unique atmosphere. The Zoological Garden during the summer season (May to August) is open from 9:00 to 18:00 (Monday to Friday) and from 9:00 to 19:00 (weekends). It should be remembered that the pavilions close a little earlier.
18. Tropicarium (Oceanarium)
Very interesting aquarium with sharks, tropical fish and animals. We liked the tunnel aquarium with crocodiles, sharks and rays. It was very nice to watch the big sharks swim. It is better to visit them during the week because it is crowded on weekends. This is practically a small zoo, located in a shopping center on the outskirts of Budapest.
19. Freedom Square
Nice place to walk or have breakfast outside. There are benches and trees in the area. On Plac Wolnosci we find a monument to the German occupation, a monument to Soviet soldiers, a monument to Reagan and a monument to Imre Nagy. Every force leaves its mark here. Interesting place.
20. Musical Fountain
If you enter the island from the Margaret Bridge, you will come to the fountain of music. It is worth spending at least a few minutes to enjoy this attraction. This is a charming and large fountain. The fountain dances, spraying water in high streams in sync with a variety of musical accompaniment.
21. Hungarian State Opera
The opera house, financed by the city of Budapest, was opened to the public after construction began in 1875. Today it is the second largest opera house in Budapest. We had a great guide who showed us many beautiful rooms and told beautiful anecdotes about the Opera.
22. Matthias Church
The view from the top of this building is beautiful and worth the money spent. Great church and decorations. At the top are church vestments, communion bowls, waffle and Hungarian crowns. The architecture is unique and the courtyard has a great view of Pest.   Budapest is an amazing place – the first visit will make you feel great. This is beautiful architecture, wonderful narrow streets, excellent cuisine and the ubiquitous hospitality of the Hungarians.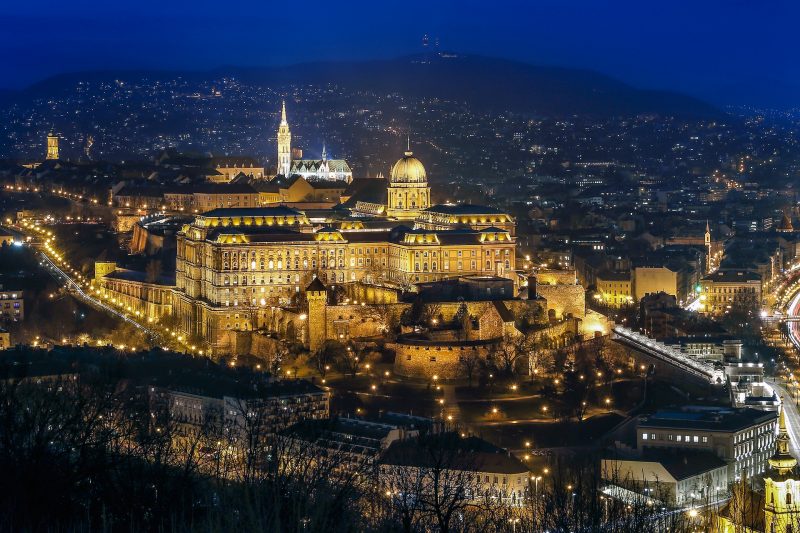 ---